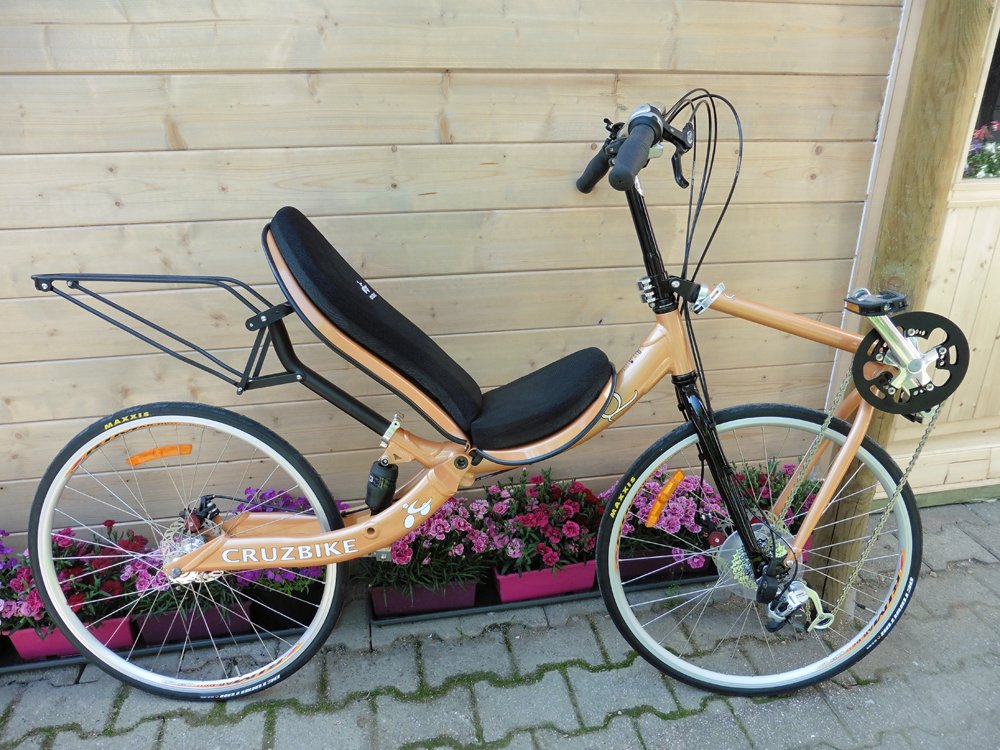 This is the fully redesigned Q559 3.0, with a range of upgrades. On the one hand, it's a lovely commuting and recreational recumbent; on the other hand, it's a compact recumbent semi-folder. Le Q559 est un modèle complètement transformé qui est à la fois un vélo utilitaire (vélotaf) et récréatif. Un vélo couché compact semi pliant idéal pour charger dans son véhicule ou dans les transports en commun.
The Q559 recumbent bike comes with 26 inch (559) wheels. Roues de 26″ (559).
Upgrades from the previous model feature the highly praised SRAM Dual Drive three-speed internally geared hub, making it easy to shift into a low gear even when stationary and guaranteeing perfect shifting every time. The hub carries 9 sprockets for smooth close ratio shifts with a grip shifter.

Amélioration avec le Sram dual drive 3 vitesses dans le moyeux arrière associé à une cassette de 9 Vitesses.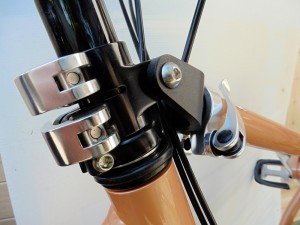 The folding process has been simplified with a seat that removes with two thumb screws and a quick release. The frame has been evaluated and redesigned with a larger diameter seat post for added strength while retaining the same weight. Des serrages rapides permettent de simplifier le pliage du cadre, le siège est plus large sans augmentation de poids.
A unique folding rear rack is included. The rack magically folds down against the seat-back for transportation — Beautiful!  Le porte bagage un peu spartiate est néanmoins pliant, ce qui est fort pratique.
Quick releases now fix the steering column clamp to quickly drop the bike into the trunk of a car. Un serrage rapide permet le démontage aisé de la colonne de direction pour passer le vélo dans une voiture trop basse par exemple.
The Q559  now takes 1.5″ tires front and rear. Le modèle que j'ai reçu est en pneus de 1″ 25-559.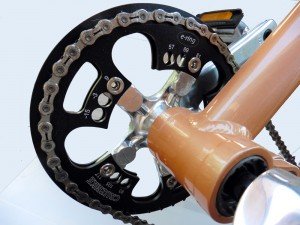 And! don't forget the new 42 tooth e-ring. This is an elliptical ring to a patent pending Cruzbike design. We believe this is the first time an elliptical ring has been offered standard on a recumbent. (If you see a triple chainring in a video, this is the Quest 1.0. Quest 2.0 has the elliptical ring.) N'oubliez pas que le modèle 2014-2015 Quest 2.0 comporte un pédalier elliptique de série-brevet Cruzbike-
Together these improvements make an already great bike even better.
The Q559, with 26 inch wheels has robust rear suspension, le Q559 a une suspension, arrière élastomère robuste
Note: Cruzbike recumbent bikes should be enjoyed on smooth roads and paths, if you take your Cruzbike on rough surfaces, the bike should be examined carefully afterward for loose connections, bolts or damage to fork and frame. Comme les deux autres modèles de la gamme Cruzbike, le Quest 2.0 est plutôt fait pour les routes asphaltées pas trop mauvaises. Si vous l'utilisez sur des chaussées endommagées, vous devrez l'inspecter soigneusement après de manière à vérifier tous les serrages.